We can supply birds of all species and we even take on special requests for particularly hard to get hold of birds. You can view our full range and the price list by clicking on Current Stock.
If you do not see the breed of bird you are looking for please contact us with details and we will try to source your desired bird using our network of top breeders across the UK and Europe.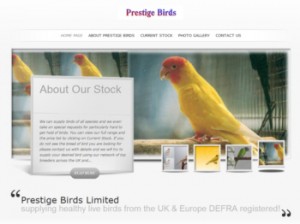 We do already supply various species of Finches, Canaries, Soft Bills and Parakeets among others. All of our birds are transported in specially made transportation containers that ensure no harm comes to the birds.
DEFRA, a government body has  policies and procedures in place that ensures the well being of all live stock during transportation. Prestige Birds Limited is a registered member of DEFRA.
As a business we are committed to delivering healthy quality birds  guaranteed! The quality of our birds is never compromised and we strive to deliver the healthiest birds available in the market today.
Please feel free to contact us for any further information you require!