Our business is essentially the sale and supply of various birds. We are committed to delivering the very best quality stock available. The operation runs throughout Europe and the UK.
We supply not only Soft Bills, Finches, Parakeets, Canaries and European Finches but also look to source birds to order on special request. We have been involved in the breeding and trade of birds for more than 40 years and have built our business on trust and honesty.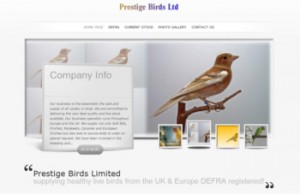 We are friendly, approachable and have a clear focus on delivering customer expectation 100% of the time. Being aware of how many businesses have ceased trading over the recent years we strongly believe that it is our healthy quality stock and great customer service that ensures our business grows year on year.
We are a registered business at Companies House and are also a DEFRA registered supplier of healthy quality birds.
If you would like further information about our stock or services we offer, please feel free to contact us. You can use our contact form by clicking on 'contact us' above in the main menu.